Who is Eligible to Use UCD's College of Business Behavioural Research Lab?
You are eligible to use the UCD behavioural research lab for research purposes if you are a faculty member, postdoctoral researcher, or a graduate student affiliated with UCD aspiring to conduct behavioural research with human participants.
How Does UCD BRL Help My Research?
The UCD BRL provides resources for UCD-affiliated behavioural researchers free of charge.
Lab Facilities
The UCD behavioural research lab has 20 computer stations that can be operated synchronously for computer-based experiments.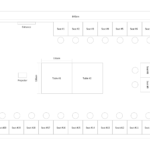 Each workstation is equipped with accessories including a keyboard, camera, headset and a mouse.
Computer
Dell desktop computer (OptiPlex 5080)
Intel core i7
Windows 10 Pro 64-bit operating system
RAM 16.0 GB
Fast Internet connection
Software installed
Web browsers: Chrome, Firefox, MS Edge
MS Office programs (e.g., Word, Excel, Power Point)
Monitor
Dell monitor (24-inch)
Accessories
Dell keyboard and mouse
Logitech C920 1080p webcam
Dell headset
If you plan to conduct computer-based experiments, you can use any of the major survey design platforms, such as Qualtrics or Pavlovia.
Researchers can use the laboratory to conduct focus group interviews or negotiation studies. As well as individual workstations the lab has three large tables suited for group work.
The laboratory is also equipped with full set of AV facilities, including a projector, speakers and a lecture capture system; the camera installed towards the back of the room allows researchers to record sessions. The large screen and projector allow researchers to display instructions via slides, play videos, or display stimulus material to participants.
If researchers require other software packages to be installed on the lab PCs or require information on use of the AV equipment or usage of the lecture capture system, please contact iltg@ucd.ie
Participant Recruitment System: Sona System
The UCD Behavioural Research lab uses the Sona System for managing experiments. The Sons System is an easy to navigate platform, which is compliant with human subjects regulations. On Sona you can post information about your experiment, schedule lab sessions, contact participants, and more. You can register for Sona using your UCD Single Sign-On credentials. Click here to sign-up for the Sona system.
Here is a useful tutorial on how to use the Sona System for running your experiments
Administration of Experiments
The lab manager will assist researchers wishing to register on the Sona lab management system as well as with scheduling experiments and recruiting research participants. For further information please contact brlab@ucd.ie .
Industry Collaboration
UCD BRL is open for collaboration with industry partners. Please contact Marius Claudy (marius.claudy@ucd.ie) or Yuna Yang (yuna.yang@ucd.ie) if you are interested in conducting behavioural research at UCD.
What Should I Do to Conduct My Research Through UCD BRL?
Before registering your experiment via the Sona System, please ensure that your research has received Ethical Approval from the UCD Office of Research Ethics.
Next, we kindly ask you to complete the study submission form at least 4 weeks in advance of your planned study. The form asks you to provide your UCD Ethics number as well as information regarding the nature of the study, sample size and preferred schedule. A UCD login is required to access/complete the form.
After submitting the form, what happens next?
The lab manger reviews the form and proposes a schedule for the experiment. To ensure the most efficient use of our subject pool, shorter studies might be grouped together.
Researchers will then be notified with the proposed schedule.
Researchers have to confirm availability for the proposed schedule (i.e., someone has to be physically there to administer studies)
Researchers will post a notice on the Sona System to recruit participants from our UCD subject pool.
Once participants have signed up, researchers will send a reminder email to participants 24-48h before the experiment
Run the experiment (and take attendance)
Reimburse/reward participants